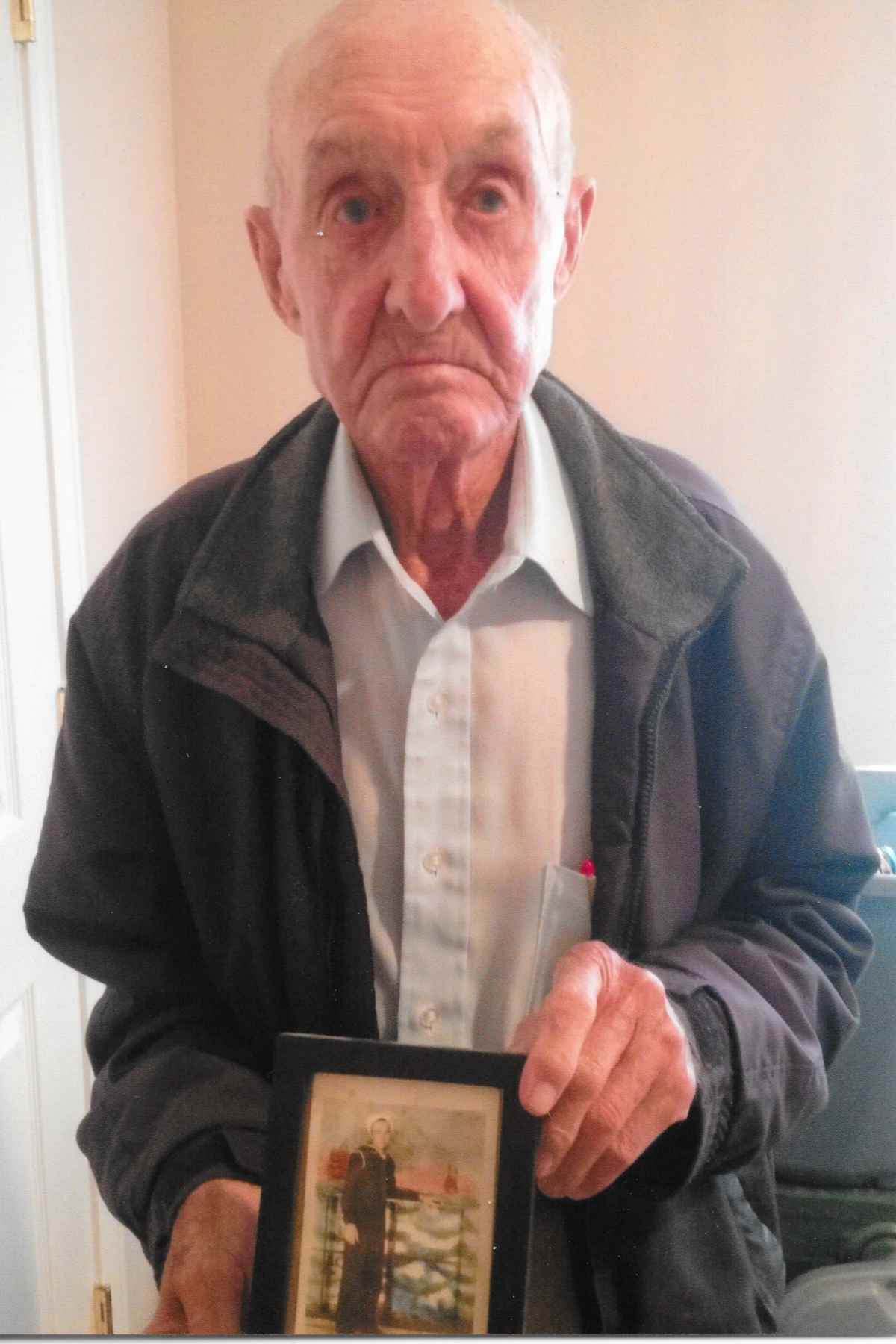 I'm sad to say Samuel Odis Lewis passed away on January 5, 2017. Mr. Lewis was born on April 24, 1925 in Texas.
When Mr. Lewis was 18, he took a bus to the Federal Building in Dallas, Tx to join the United States Navy. Mr. Lewis was put on the train for boot camp in San Diego, CA on the same day.
The picture he is holding is a picture taken while he was in San Diego shortly after he signed up. Mr. Lewis said it was water-colored by a lady who colorized photos next door to the photo booth for a nickel.
After 8 weeks of training he was sent to the Land Craft School on Coronado Island where he learned how to operate Higgins Boats.He was then sent to another land craft school at Camp Pendleton Marine Corps Base, NJ. He received his last session of training at Solomon Island, after a year of hardwork, he earned the status of coxswain.
All his training gave him the knowledge needed to operate Higgins Boats to participate in the invasion to retake Guam from the Japanese on July 21, 1944. For 24 days, Mr. Lewis brought men to the island and carried the wounded out; until General Roy Geiger declared Guam secured. He stayed there for the next 16 months bringing supplies to the beaches of Guam. In his own words, he briefly described what he did; "I took a lot of the wounded to the ship by boat. It was a hard job. We buried the dead in the ocean because there was no place to bury them. that's a hard call for a kid to make."
In Dec 1945, Mr. Lewis returned to the U.S. and was honorably discharged after two years of service. In 1947, Mr. Lewis reenlisted in the U.S.Navy. During this time, he had many different duties, including transporting nuclear scientists to Eniwetak Atoll in the Marshall Islands. There he witnessed two atomic bomb tests, Mr. Lewis would later say; "I can't describe it." In September 1951, Mr. Lewis was again honorably discharged from the U.S.Navy.
Mr. Lewis would eventually returned to Guam in 2004 for the 60th anniversary of the Liberation of Guam. During his retirement years, Mr. Lewis was instrumental in the construction of Young County's Veteran Memorial which now has over 5,500 names listed. His name is listed twice, once for World War II and once for the Korean War.
The memorial stands in front of the Young County Courthouse in Graham, Tx today.
Mr. Lewis was a pillar for his community who also loved animals like his favorite a 30 year old donkey "Jenny." Everyday, Mr. Lewis would wear a different bowtie and often made jams and pies which he was sure to attach a quote of wisdom with it.
Thank you Mr. Lewis for your military service and community service.