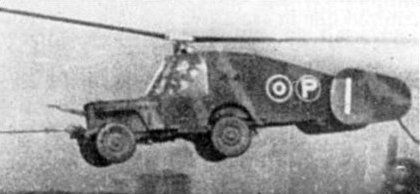 November 17 1943, Ringway, Manchester, England. The Hafner Rotabuggy flies for the first time.
This strange vehicle is known as the Hafner Rotabuggy, it's official name is the Malcolm Rotaplane or as the M.L. 10/42 Flying Jeep. Designed by Raoul Hafner of the Airborne Forces Experimental Establishment with the intention of a way to air-drop small vehicles.
Before the prototype could be built, a Willys MB had to be tested for how high it could be dropped without damaging it. A Willys was loaded with blocks of concrete and dropped from 7.8 ft without damage. Next, a 40 ft 8.2 in diameter rotor, tail fairing and fins were attached to a jeep, but no rudders. A pilot and a driver were needed to operate the Rotabuggy, the driver had a normal steering wheel while the pilot had a control stick. At first, the vehicle was named the "Blitz Buggy" but it was soon changed into the Rotabuggy.
On November 16 1943, The Flying Jeep was towed by a Diamond T truck, but the truck did not have the speed to get the Rotabuggy into the air. On November 27, a supercharge 4.5 litre Bentley automobile was used to get the Rotabuggy airborne, the test was a success and it was learned the buggy could go 45 mph gliding. Later tests were made being towed behind an Armstrong-Whitworth Whitley bomber which proved exhausting for pilot in the jeep as the controls thrashed around violently and the design suffered from severe vibration. Improvements allowed the Rotabuggy to reach speed up to 70 mph which was achieved on February 1944. The last test was in September 1944, the Rotabuggy was towed behind a Whitley bomber and released. The Flying Jeep flew at an altitude of 400 ft, 65 mph. Even though the design was considered as "highly satisfactory," the gliders like the Waco Hadrian and the Airspeed Horsa designs made the Rotabuggy pointless and the project was cancelled.
Today a replica of the Rotabuggy exists at the Museum of Army Flying